Outstanding participation of Ecuador in the Emigration Fair 2013
Details

Published on Saturday, 09 February 2013 01:00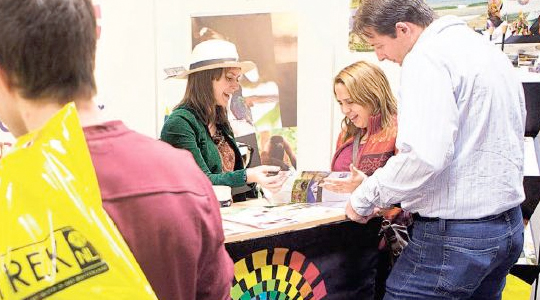 Photo: Nicky Buizer, representative of the Embassy of Ecuador in the Netherlands, presents information to potential migrants.  Article published in 8 Dutch newspapers with more than 3 million readers.

The Embassy of Ecuador in the Kingdom of the Netherlands successfully participated for a second consecutive year in the largest Emigration Fair in Europe, which took place in Houten, located in the center of the country, on 9 and 10 February, 2013, receiving more than 11000 visitors.
The Ecuadorian stand stood out among more than 150 exhibitors, presenting information about the living conditions, work, study and foreign business management to all potential migrants, expatriates, students, job seekers, entrepreneurs, investors, retirees, etc. attending the event.
"In Ecuador you can find forest, mountains and sea all nearby and, if you go a little further, the Galapagos Islands" summarized the Dutch press in an article that was published in eight newspapers nationwide (Provinciaal Zeeuwse Courant, De Gelderlander , Eindhovens Dagblad De Stentor, Tubantia, Brabants Dagblad, BN De Stem, Noordhollands Dagblad), distributed to 3 million readers.
The interest shown by the Dutch to participate in the programs offered by the Ecuadorian government to foreigners, especially the Prometeo project, Ecuador as a haven for retirees, volunteer programs and curricula.